Šedý liščí ocásek EasyToys Fox Tail Plug no.5 stříbrný anální kolík
Šedý liščí ocásek EasyToys Fox Tail Plug no.5 stříbrný anální kolík
Liščí ocásek EasyToys Fox Tail Plug s realistickým zpracováním kožešiny. Dlouhý ocásek s hliníkovým análním kolíčkem se jednoduše zavádí. Ocas má délku 40 cm a má šedou barvu. Anální kolík je dlouhý 6 cm s průměrem až 2,7 cm, stříbrný, kovový.
More informations
Erotic tool that revives sex life
Petplay - cute and ardent enjoyment
Nice seductive butt plug
Realistic look and feel
Description

Šedý liščí ocásek EasyToys Fox Tail Plug no.5 stříbrný anální kolík
Nech svou mysl propadnout perverzním hrátkám. S liščím ocasem EasyToys Fox Tail Plug se staneš pravou liškou. Ideální anální kolík pro petplay. Jako správný mazlíček se musíš i chovat. Chovej se roztomile, přitul se ke svému majiteli a ukaž mu, kdo je ta hodná lištička.
Liščí ocásek EasyToys Fox Tail Plug má hliníkový anální kolík. Kolík byl vytvořen se zakulacenou špičkou pro lepší penetraci, hladkým baculatým tělem a úzkým hrdlem. Kvalitní provedení s nádherným designem určený pro náročné. Příjemný materiál kožešin ocásku se ti bude plést mezi nohama a působit krásný realistický pocit, jakoby byl ocas pravý.
Díky kovovému kolíku EasyToys Fox Tail Plug lze konec zahřát nebo ochladit. Hártky s teplotou oživý požitek o nové extra zážitky! Ciťte se lišácky s tímto nádherným ocasem!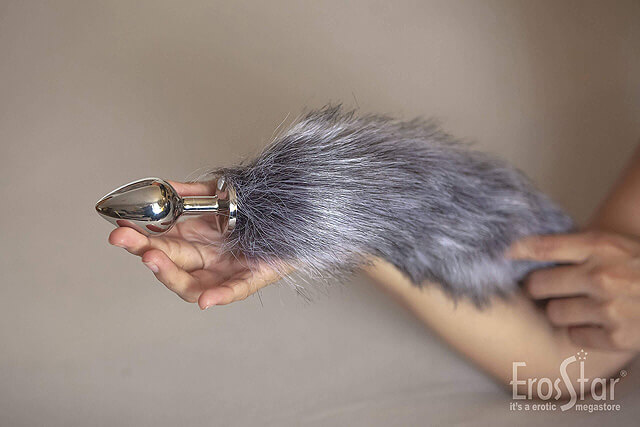 Each one of us has a desire to (or always?) Sex with something. Everyone has different tastes. Someone put on...
Read more
More informations
Product code

341521

EAN

8718627526026

Manufacturer
Reviews
Uh-oh...
Looks like no one has added a review yet.
Do you have experience with the product? Share your opinions with us and help other people choose their new toy!
Technical specifications are subject to change without notice. The images are for information only.